GROUP CLASSES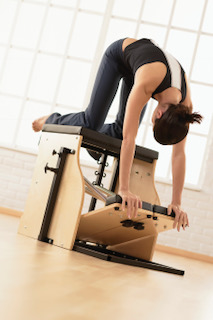 Getting Started
Getting started in Pilates can be intimidating and confusing. We want to keep it simple and enjoyable for you. Here are the steps you need to get going and receive the amazing benefits Pilates has to offer:
Reformer Classes
This is a class conducted on the versatile STOTT PILATES Reformer, a specialized piece of equipment that allows students to work out using spring resistance. The class works the basic principles of Pilates, allowing students to work at a comfortable pace to help build strength and flexibility. Great for all levels of fitness. 
Chair Classes:
This is a class that incorporates the STOTT PILATES stability chair used as a means to challenge balance, coordination and strength.  Whether you are a runner, cyclist or involved in team sports, it will improve your activity and help keep you injury free. 
Circuit Classes:
This unique class incorporates the STOTT PILATES equipment, including but not limited to, Reformer, Stability Chair, Halo Trainer, and Stability Barrel.  The Circuit style accommodates more people and autonomy.  It is for the student who understands the Stott Pilates 5 Basic Principles and has good body awareness.  This class will challenge your core strength, coordination, endurance and flexibility.  Bring a towel and get ready to sweat!
Mat Classes:
Ground yourself in the essentials of STOTT PILATES Matwork mastering proper technique to reap the benefits of group classes. This series helps participants develop true core strength and stability while heightening mind-body awareness. Props add variety and build familiarity for more challenging classes.
Core Classes:
An intense Core training class, based on the Stott Pilates basic principles using the Halo Trainer, Stability Barrel and other props to intensify and challenge your workout.
1. Call or Text the Studio 760-505-3300 and we can set you up for an appointment.
2. Your first session will be a one-on-one session with one of our certified instructors to teach you correct biomechanics along with all the ins and outs of the Pilates equipment used in class. We encourage everyone to do our Intro to Pilates package that is 3 private sessions. This gives you three hours of one-on-one instruction to get you prepped and ready for group classes.
If you have injuries or special concerns we can certainly help with that too. We have several fully certified STOTT PILATES® Instructors that are highly trained and can help you get back to full functional strength.
Studio Prices: CLICK HERE
Class Schedule: CLICK HERE